About Resolve Tax
Resolve Tax is the premier provider of tax solution services. Since 2005, I have been offering nationwide assistance to taxpayers who owe back taxes. My services include but are not limited to the following:
Current Year and Previous Year Tax Preparation
Wage Garnishment Partial & Full Releases.
Prevention of Future Bank Levies
Prepare, Submit & Negotiate Offer in Compromise
Prepare, Submit & Negotiate an Affordable Monthly Payment Plan
Prepare, Submit & Negotiate an Uncollectible Status
Revenue Officer Representation
Payroll Tax Representation
Full Pay Representation
Possible Removal or Federal Tax Liens
Determine Tax Liability Expiration Date & Strategic Planning
Enrolled Agents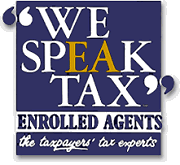 Due to the many tax products available and the complexity of the IRS tax code, Resolve Tax recognizes the importance of having access to well-educated and experienced tax professionals. For this reason, Resolve Tax consist of an Enrolled Agent. Enrolled Agents are licensed to practice before the Internal Revenue Service (IRS). In order to become an Enrolled Agent, one must pass a rigorous test administered by the IRS. The exam covers the entire tax code, every IRS form and publication, and the IRS standard of ethics. The difficulty of the test is seen in the passage rate. Passing the test does not guarantee the status of an Enrolled Agent. The IRS performs a rigid background check on each candidate prior to admitting them to practice. Once admitted, an Enrolled Agent has the same authority as an attorney or CPA in representing taxpayers before the IRS.
Click and Learn More about Enrolled Agents
Affordable Experience
At Resolve Tax, the goal is to help client's help themselves, by identifying the best resolution to their tax problems. I want the opportunity to help you choose the best tax service that fits your financial needs.
The philosophy at Resolve Tax is simple. I believe in providing an exceptional service at an affordable price. My fees are a direct result of understanding the financial hardship that exists in being indebted to the IRS. Acknowledging the daily financial struggles that my client's face ensures my effort to make my fees as reasonable and as affordable as possible. I take great pride in being able to offer the same service as my competitors at a lower fee.
Excellence With The Better Business Bureau
Resolve Tax is a step above the competition and this has been acknowledged by the Better Business Bureau (BBB). I take great pride in my BBB rating. As you will see, none can compare to me. In fact, I encourage delinquent taxpayers to shop around as I'm confident that what I offer beats the competition. My "A" rating is definitely attributed to my qualification process. Unlike my competition, I do not have salespeople in the initial consultation department. Each initial consultation is conducted by myself, the licensed agent with the authority to represent taxpayers before the IRS. I am experienced in determining the correct tax product based on your particular tax situation and have the authority to present your circumstances to the IRS and negotiate on your behalf. Most tax companies have sales people who get a hefty commission for each taxpayer they qualify for tax resolution so they do not take the time to prequalify each candidate properly. Rather, they determine that all taxpayers qualify for tax settlement and then once you retain them you are transferred to another department and to a maze of different people that supposedly work your file. At Resolve Tax, you get the peace of mind that the person you speak to at the outset will be the one representing you throughout the process.
I don't think you can ask for more. Resolve Tax is a solid tax resolutions firm that has a track record of success since 2011, staffed with a competent licensed tax representative, has an "A" rating with the BBB, and beats competitor's prices. There is absolutely nothing for you to lose by giving me a call. Act now and contact me for your free initial consultation.